RecoveryPump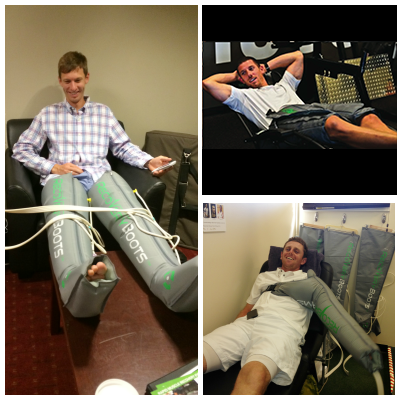 RecoveryPump provides pneumatic compression pump therapy.
Used by both professional and amateur athletes, RecoveryPump helps to reduce fatigue and pain to speed recovery time.
With the increasing high demands on athletes today, RecoveryPump provides an athlete with pre- and post-performance benefits, such as:
Stimulating blood flow to and from the extremities, including during warm-up
Eliminating metabolic waste from the circulatory system during post-athletic training or competition which reduces fatigue
Reducing cramping or damage to muscle tissue, which affect performance
Assisting the body's healing rate with injuries such as strain or sprain, tendonitis, joint or ligament strains, surgery, and scar tissue
Recovery Pump is a must have for athletes who want to maintain their fitness regiments and keep their competitive edge. RecoveryPump is both FDA and GSA approved.
Special offers on RecoveryPump Systems
Contact Colleen directly at 617-686-8515 or Colleen@backinmotion.info for periodic special pricing and discounts.  Systems are available for weekend or monthly rental for yourself, sporting events or your team's practice / competitive season.  Weekend rental is  $75, monthly rental is $210.
Additional RPSports products
BackinMotion can also provide you with information on the RP Sports Kaatsu system, the Recover Tub and the Cryo Air Systems.
For more information, call BackinMotion at 617-686-8515 or email colleen@backinmotion.info.
Receive a discount when ordering with Back in Motion

"Colleen Carney introduced me to the RecoveryPump during a summer squash tournament in 2012.  During the tournament, I played three matches in a day. I was injured before the tournament began, and squash is a very draining sport. But the [RecoveryPump] boots rejuvenated me and helped me feel as fresh before my last match of the tournament as my first. I won every match I played in that tournament after using the boots—despite my injury. The Recovery Pump has been an invaluable and durable asset during this year's season. It is one of the reasons I performed so well that year. I highly recommend the RecoveryPump."

—David Merkel, Junior Squash Player, Brooklyn Heights, NY