About BackinMotion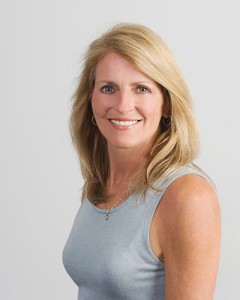 Colleen Carney, a Certified and Licensed Muscular Therapist, is the principal therapist and owner of BackinMotion. Colleen uses kinesiology to determine the cause and effect of muscular disorders.
During her extensive 25+ year career as a muscular therapist, Colleen has worked with numerous patients who have suffered from a multitude of injuries due to lifestyle, accidents, trauma, disease or disorders and has also rehabilitated professional athletes, including members of the WBA, USTA, USET, PGA, NFL, NHL, NBA, MLB and more.
Why choose a muscular practitioner as your massage therapist?
We all love to be comfortable. Over time, each of us tends to get comfortable with the way we move—even if it's not the best thing for us.
Our bodies do a great job compensating for development and injury, and they create patterns and habits of movement that are unique to each individual. Unfortunately, these compensations can be the catalysts for discomfort and pain.
As a muscular therapist, it is my job to determine which habitual movements cause pain and weakness in your muscles and soft tissue. By applying biomechanics and my knowledge of anatomy and physiology, I can help you become stronger and pain-free.
How does therapeutic massage help?
I don't want you to be my patient forever—I want to help you be well permanently. Therapeutic massage directly affects the condition of the muscle tissue, but it is just one part of the healing process.  Muscular therapy, as opposed to basic massage therapy, offers the patient greater opportunity for healing.
It is important for patients to know that they can recover from their pain, in most cases, but they have to be willing to change the repetitive patterns that are keeping them in a state of discomfort.  This is accomplished through specific exercises that retrain the muscles to stabilize and build coordination in the tissue fibers. Once stabilization and coordination are established, strength can be achieved and the recovery process is completed.
"I have known Colleen Carney for many years. Over the course of my career I have treated with dozens of massage therapists and Colleen is truly the best at her profession. I'd recommend her services to anyone looking for a great massage."
—Greg Hawkes, Keyboards/Vocalist for The Cars
Education
Certified by the Massage Institute of New England since 1991
Member of the American Massage Therapy Association (AMTA) since 1991
Commonwealth of Massachusetts – Professional License #94
Certified in 1993 by the University of Massachusetts Medical Center Sports Medicine Department for the treatment of shoulder injuries
Certified in 1993 by Jack Meagher (creator of Human and Equine Sports Massage) in Equine Sports Massage
Professional career highlights
2012-Present Sales Representative for RP Sports.  The Recovery Pump system is a sequential pneumatic compression device, which assist an athletes' muscle tissue to recover from high-levels of performance.  Back in motion also sells:  Kaatsu, Athletic Monitoring, Recovery Tub and Cryo Air systems for personal and athletic teams or institutions.
2018 Exclusive Sports Massage Therapist for Harvard Men's Squash Team for College Nationals — Trinity College, Hartford, CT
2018 Provide Sports Massage Care for visiting NBA Athlete — Boston, MA
2018 Exclusive Sports Massage Therapist for Harvard Men's Squash Team — Harvard University, Boston, MA
2017-2018 Signed agreement with a Profession Sports Team to be their Sports Massage Therapist for the season — Boston, MA
2017 Exclusive Massage Therapist for Frank Millet Massachusetts Junior Championships (JCT) (288 participants) — Harvard University, Boston, MA
2017 Exclusive Massage Therapist for Ghost Light Movie,LLC – Preventative care for Actor Tom Riley
2017 Made business connection between The Sports Museum Boston and U.S., MA Squash & The University Club of Boston to bring a permanent squash exhibit to The Sports Museum.  Opening of exhibit, October 4, 2017 – TB Boston Garden — Boston, MA
2017 Offered & Accepted Exclusive Sports Massage Therapist position for members of Longwood Cricket Club — Chestnut Hill, MA
2017 Exclusive Sports Massage Therapist for Longwood Cricket Club, Father/Daughter & Father/Son – USTA Recognized Tennis Tournament — Chestnut Hill, MA
2017 Exclusive Sports Massage Therapist for Donovan College Tennis Showcase — Harvard University, Boston, MA
2017 Exclusive Sports Massage Therapist for Motion Picture Industry Company, bound by Non-Disclosure Agreement
2017 Exclusive Sports Massage Therapist for Longwood Cricket Club, Father/Son, Grandfather/Grandson USTA Recognized Tennis Tournament — Chestnut Hill, MA
2017 Exclusive Sports Massage Therapist for LGBT – Boston Tennis Classic (80 participants) USTA Recognized — Harvard University, Boston, MA
2017 Exclusive Sports Massage Therapist for US Squash Junior National Championships (300+ participants) — Harvard University, Boston, MA
2017 Exclusive Sports Massage Therapist – CSA National Team Championships for Harvard Men's Squash Team – 2nd place Finnish – Harvard University, Boston, MA
2017 Exclusive Sports Massage Therapist for US Squash "Frank Millet" Junior Championship (300+ participants) — Harvard University, Boston, MA
2016 Exclusive Sports Massage Therapist – CSA National Team Championships for Harvard Men's Squash Team – 5th place Finnish — Harvard University, Boston, MA
2016 Exclusive Sports Massage Therapist for US Squash – US Junior Squash Championships (Closed) & US Women's Championships (Closed) — Harvard University, Boston, MA
2016 Invited Guest Speaker for Belmont Lyon's Club – "Sports Massage & Importance of Recovery for Athletes" — Belmont, MA
2016 Exclusive Sports Massage Therapist for MA Squash – MA Junior Championships — Belmont, MA
2016 Exclusive Sports Massage Therapist for New England LGBT Tennis Tournament (165 participants) USTA Recognized — Harvard, University, Boston, MA
2016 Exclusive Sports Massage Therapist for Donovan Tennis Showcase, College Recruiting Tournament — Harvard University, Boston MA
2016 Exclusive Sports Massage Therapist for MA Squash – MA Junior Squash Gold Tournament (150+ participants) — Groton School, Groton, MA
2015 Exclusive Sports Massage Therapist for MA Squash – MA Gold — Deerfield, MA
2015 Exclusive Sports Massage Therapist for US Squash – U.S. Junior Open (700+ participants) — New Haven, CT
2015 Exclusive Sports Massage Therapist for MA Squash – MA Junior Squash Gold Tournament (150+ participants) — Groton School, Groton, MA
2015 Exclusive Sports Massage Therapist for US Squash Connecticut Junior Championships (JCT) (300+ participants) — Trinity College, Hartford, CT
2015 Exclusive Sports Massage Therapist for US Squash "Frank Millet" Junior Championship (300+ participants) — Harvard University, Boston, MA
2015 Exclusive Sports Massage Therapist & Preventative Care Therapist – Harvard Men's Soccer Team — Harvard University, Boston, MA
2015 Exclusive Sports Massage Therapist – DTS College Recruiting Tennis Tournament — Harvard University, Boston, MA
2015 Exclusive Sports Massage Therapist – CSA National Team Championships for Harvard Men's Squash Team — Trinity College, Hartford, MA
2015 Exclusive Sports Massage Therapist – CSA National Team Championships for Harvard Women's Squash Team – "National Champions & Winners of the Howe Cup" — Harvard University, Boston, MA
2015 "In-home" preventative care & sports recovery maintenance therapist for members of the Boston Bruins Team & Organization
2014 Exclusive Sports Massage Therapist – MA Junior Squash Gold Tournament (190 participants) — Brooks School, Andover, MA
2014 Exclusive Sports Massage Therapist – MA Junior Squash Championships (220+ participants) — Groton, MA
2014 Exclusive Sports Massage Therapist – US Squash Junior Open Championships (700+ participants) — New Haven, CT
2014-2016 Conjunctive care provider for Scott Waugh, PT – Co-owner, Sports Physical Therapy Associates and Clinical Director of Mass General Sports Therapy for Division of Sports Medicine and Rehabilitation Coordinator for Boston Bruins and Boston Red Sox.
2014-2016 Exclusive "in-home" Massage Therapist for members of the Boston Red Sox Organization
2014-Present Exclusive Sports Massage & Preventative Care Therapist for TOG Squash – Premier Junior Squash League based in Boston, MA
2014 Exclusive Sports Massage Therapist – CSA National Team Championships for Harvard Men's Squash Team – (Advanced from 2nd Place, Undefeated season) sweep 9-0 "1st place finish " National Champions, Winners of the Power Cup" — Harvard University, Boston, MA
2014 Exclusive Sports Massage Therapist – Ivy's Men's Swimming & Diving Championships for Harvard Men's Team – "1st Place Finish" — Harvard University, Boston, MA
2014 Subcontracted and supervised massage therapist for Brown University Men's Swimming & Diving Team for the Ivy's Men's Swimming and Diving Championships.  Secured continued care with Brown University Men's Swimming & Diving Team for 2015 Ivy Championship.
2014-Present Referral service for preventative care & sports massage for patients of Dr. Lyle Micheli, Director of Orthopedics – Children's Hospital, Boston & Waltham, MA
2014 Conjunctive Care with Arlington Chiropractic — Arlington, MA
2014 Exclusive Sports Massage Therapist for New Balance High School Tennis Championship (200+participants) — Harvard University, Boston, MA
2014 Exclusive Sports Massage Therapist for US Squash "Frank Millet" Junior Championship (300+ participants) — Harvard University, Boston, MA
2014 Exclusive Sports Massage Therapist for MA Squash, Groton Junior Gold Tournament (200+ participants) — Groton, MA
2014 Exclusive Sports Massage Therapist for US Squash Junior Open Championships (700+participants) — New Haven, CT
2014 Exclusive Sports Massage Therapist for MA Squash, Massachusetts Gold (170+participants) — Brooks School, North Andover, MA
2013 Exclusive Sports Massage Therapist – MA Squash Groton Junior Gold Tournament (220+ participants) — Groton, MA
2013 J.P Morgan – ToC  (Tournament of Champions) – Exclusive Sports Massage Therapist, Grand Central Station — NY, NY
2013 Exclusive Sports Massage Therapist – CSA National Team Championships for  Harvard Women's Squash Team – "National Champions & Winners of the Howe Cup"  — Yale University, New Haven, CT
2013 Exclusive Sports Massage Therapist – CSA National Team Championships for Harvard Men's Squash Team – (Advanced from 3rd place) "2nd Place finish" — Yale University, New Haven, CT
2013 Exclusive Sports Massage Therapist (for Harvard Squash Members) – CSA Individual Championships — Trinity College, Hartford, CT
2013 Exclusive Sports Massage Therapist – Ivy's Men's Swimming & Diving Championships for Harvard Men's Team – "2nd Place Finish" — Brown University, Providence, RI
2013 – 2016 Private Sports Massage Therapist for Alex Meyer, 2012 Olympic Open Water Swimmer for USA Swimming
2013 Provided Recovery Pump Services for 2013 Van Allen Cup Championship, Tennis Hall of Fame, USTA Recognized — Newport, RI
2013-2017 Began a collaborative working relationship with Global Athletic Shoe Corporation, securing a mutual NDA agreement to enhance the development of athletic shoes.
2013 Exclusive Sports Massage Therapist – MA Squash Middlesex Junior Gold Tournament (260+ participants) — Concord, MA
2013 "Showdown at Symphony Hall" Professional Squash Tournament – Exclusive Sports Massage Therapist — Boston, MA
2013 Exclusive Sports Massage Therapist – National Intercollegiate Indoor Tennis Championships (200+ participants) — Harvard University, Boston, MA
2013-Present Provide Sports Massage Therapy to Boston College Women's Tennis Team members on an as needed basis
2013 Exclusive Sports Massage Therapist – MA Squash "Fall Foliage" Dartmouth Junior Gold (200+ participants) — Dartmouth College, Dartmouth, NH
2013 Exclusive Sports Massage Therapist – US Squash "Frank Millet" Junior Championships (300+ participants) — Harvard University, Boston, MA
2013 Exclusive Sports Massage Therapist – MA Squash Deerfield Gold (220+ participants) — Deerfield, MA
2013 Exclusive referral "in-home" Massage Therapist for Campion and Company Real Estate — Boston, MA
2013-Present Exclusive Sports Massage for TOG Squash — Multiple Junior Squash locations, MA
2013 Exclusive Sports Massage Therapist – US Squash Junior Open (700+ participants) — Choate Rosemary Hall, Wallingford, CT
2013 Exclusive Sports Massage Therapist for Jordan Dean, Actor staring as Robin in "The Heart of Robin Hood" — A.R.T  Cambridge, MA
2013 Exclusive Sports Massage Therapist – U16 & U19 Wizards Winter Hockey Festival (250+participants) The Edge — Bedford, MA
2008-2012 Private Sports Massage Therapist for Ray Allen of the Boston Celtics
2012 Exclusive Sports Massage Therapist – CSA National Team Championships for Harvard Men's Squash Team – (Advanced from  5th place) "3rd Place finish" — Princeton University, Princeton, N.J.
2012 Exclusive Sports Massage Therapist – CSA National Team Championships for Harvard Women's Squash Team –  "National Champions & Winners of the Howe Cup" — Harvard University, Boston, MA
2012 Exclusive Sports Massage Therapist for Harvard Squash Team Members – CSA Individual Championships — Amherst College, Amherst, MA
2012 Exclusive Sports Massage Therapist – US Squash Masters Championships (198 participants) — Harvard University, Boston, MA
2012  Sports & Rehabilitation Massage Therapist for VIP Client and family, Harbour Island, Bahamas
2012 Exclusive Sports Massage Therapist – MA Squash – Middlesex Junior Gold Championship (230+ participants) — Concord, MA
2012 Exclusive Sports Massage Therapist – Tournament of Champions "Showdown @ Symphony" Symphony Hall — Boston, MA
2012 Exclusive Sports Massage Therapist – MA Junior Open Squash – Deerfield Junior Gold Championship (220+ participants) — Deerfield, MA
2012 Exclusive Sports Massage Therapist – US Open Squash Junior Championships (772 participants) — Harvard University, Boston, MA
2012-2014 Exclusive Sports Massage Therapist for Men's Swim Team — Harvard University, Boston, MA
2012-Present Exclusive Sports Massage Therapist for Michael Mercier – Head Tennis Professional, Harvard University and USPTA, USRAS, USTA High Performance Coach & volunteer leader for Harvard Community Programs including:  Men/Women Club Tennis Team Advisor, Tenacity, Special Olympics, Wheelchair Tennis, Harvard Alumni Events, Spaulding Rehabilitation Hospital & Harvard Tennis Teams
2012-Present Exclusive Sports Massage Therapist for members of Harvard Men's Tennis Team — Harvard University, Boston, MA
2012-2014 Exclusive Sports Massage Therapist for members of Harvard Women's Tennis Team — Harvard University, Boston, MA
2012-2015 Sports/Rehab Massage Therapist for Eric Butorac – (ATP) American Doubles Tennis Player
2011-2015 Exclusive Sports Massage Therapist for Men's and Women's Squash Team — Harvard University, Boston, MA
2011 Exclusive Sports Massage Therapist for The Worlds Women's Junior Squash Championships — Harvard University, Boston, MA
2011-Present Exclusive Sports Massage Therapist for The Union Boat Club — Boston, MA
2010 Private Sports/Rehab Massage Therapist for a Member of the World Champion Boston Bruins Organization
2010-Present Conjunctive Care with Dr. Richard Vallon, DPM.  New England Medical Center — Boston, MA
2009 & 2010  Exclusive Sports Massage Therapist for "Ray of Hope Foundation" Golf Tournament — Cromwell, CT
2009-Present Private Sports/Rehab Massage Therapist for Members of the World Champion Boston Red Sox
2009  Private Sports/Rehab Massage Therapist for NBA All-Star Stephon Marbury
2006-Present In-home therapeutic and sports massage for high profile athletes and clientele with demanding professional careers
2000-2001 Private Sports Massage Therapist for WBA Champion John Ruiz (Ruiz vs. Holifield)
1995-2003 Private Sports Massage Therapist for Dana Rosenblatt Middleweight Champion
1995-2002 Private Sports Massage Therapist for Richie Lamontagne Cruiserweight and Super Cruiserweight Champion
1995-Present Conjunctive Care with John Marchese, Jr., DC, CCSP, CSCS of Marchese Sports Therapy and Performance Center – Woburn, MA
1999-2006 Conjunctive Care with Keith A. Beals, PA-C, North Suburban Orthopedics — Malden, MA
1991-2005 Conjunctive Care with Everett Rehabilitation Services and Director of Massage Therapy— Everett, MA
1991-1994 Partnership with Robert Altman, Equine Sports Massage Therapist for the 1992 U.S. & Canadian Equestrian Teams (Barcelona, Spain)
---

"I have known Colleen for almost 14 years and believe her to be one of only a handful of highly skilled deep tissue massage therapist capable of addressing the muscular complexities of today's professional athletes. As a Physician Assistant working in the field of Orthopedics in the Greater Boston area, I have utilized Colleen's talents on a number of my patients. From the first time I met her, I was impressed with the scope and depth of her knowledge."

—Keith A. Beals, PA-C North Suburban Orthopedic Associates, Malden, MA